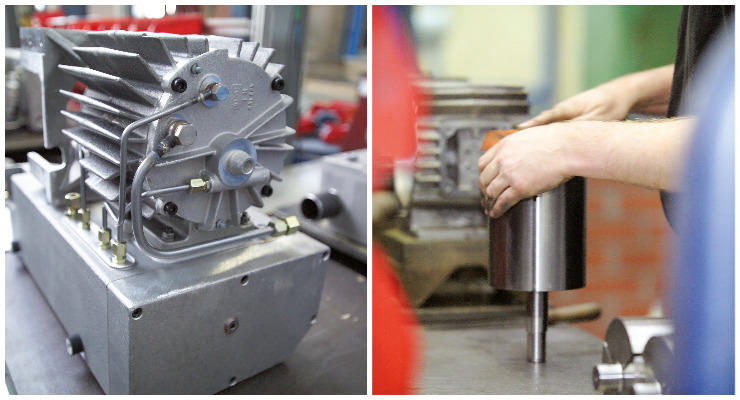 Local Support
As a premier Elmo Rietschle partner our service technican's are fully trained by Elmo Rietschle to provide on- site service, support and maintenance. We are the Irish experts in the maintenance and repair of Elmo Rietschle equipment and comparable competitor machines.
Find Peace of Mind with Service Contract
By signing a service contract you will have a number of benefits including:
Predictive and proactive maintenance of your machines to avoid an unexpected downtime
Free replacement machines while your original machine is being fixed
All your vacuum and low pressure equipment can be included; even competitor machines
Only genuine spares parts with be used on Elmo Rietschle machines
Extended warranty cover options
Repairs
We repair all Elmo Rietschle products as well as comparable equipment from our competitors.
Refurbishment includes an offer to replace all wear parts. It also includes a six-month warranty.
Always use Genuine Spare Parts to maintain top performance.
The exclusive use of original spare parts guarantees an efficient operation and maximum prevention against any possible failure:
Maximising efficiency
Less equipment stress
Optimum Performance
Fully tested
Longer Operation life
Minimal Downtime
Precision engineered equipment, such as the Elmo Rietschle vacuum and its low pressure product range, requires that each and every part is designed to work in harmony.
Each part has undergone hours of testing with multiple versions to find the optimum performance relationship.
When replacement components are as close to the original as possible, the equipment will benefit from a longer operational life, which is more efficient and effective with minimal downtime. That's why nothing can match the factory quality genuine spare parts for your machine.
Loaned Equipment / Exchanged Equipment / Leased Equipment
We carry the most current models on demand. You have three options for replacing defective vacuum pumps or compressors:
We provide you with loaned equipment for the duration of the repairs to your equipment. Upon returning the loaned equipment, you are only responsible for paying shipping and maintenance.
You can exchange the defective equipment for refurbished equipment. We will gladly provide you with an individual offer.
Should you have a short-term need for increased vacuum or pressure, we can provide cost-effective leased equipment.