The Perfomaster provides the hardware and software to generate a controlled spark over, detect this and evaluate the spark over to produce a pulse signal. The pulse signal is available on the output connector and can be used for counting the detected spark-overs and thus perforations.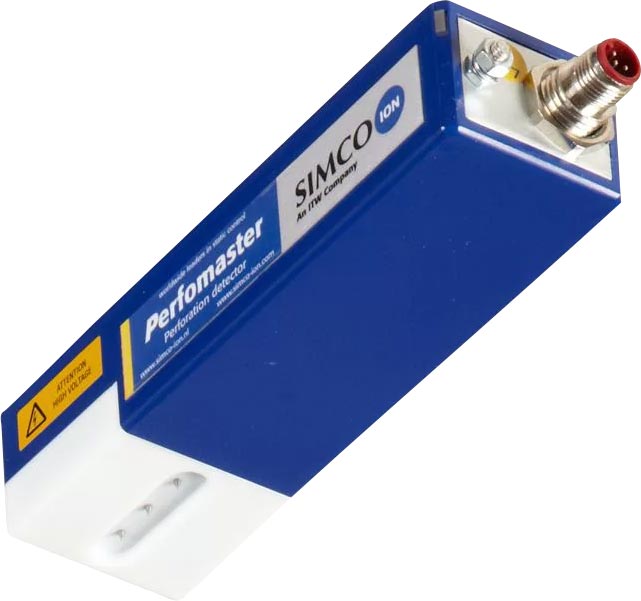 The miniaturised design of the Perfomaster contains the electrode as well as the high voltage source. It is powered by 24 V DC, so no high voltage cable is required. Electrodes are standard fitted with three special alloy emitter pins and are detachable for replacement or remote placement.
A status signal LED provides direct system information on the Perfomaster.
A green LED signals operation OK.
An intermittent red LED signals a perforation detected.
Supply voltage and output voltage setting to the Perfomaster can be provided in two ways:
directly form the machine f.e. PLC
with additional external control kit
Perfomaster Highlights
Check perforations
Compact
Count perforations
Determine material position
Full control of static electricity in your production process thanks to the IQ Easy Platform
---
Features
Incorporated high voltage power supply, input voltage 24V DC
No high voltage cables needed
wo-colour status LED: – Green LED: signals operation OK – Red LED: An intermittent LED signals a perforation detected
Supply voltage and output voltage setting can be provided: – Directly from the machine f.e. PLC – With additional external control kit
Technical specification
Housing
ABS/PTFE
Cable
low voltage cable, standard M12 connector
Input power
24 V DC, <0,5 A
Emitter pins
special alloy
Max detection frequency
25 Hz
Signal
Multicolour LED:
-Green, signal "operation OK"
-Red, signal perforation detected
Signal output
Optocoupler
Control voltage
0-10 V of 0-24 V
Ambient temperature
0 – 55°C
Use circumstances
industrial
Protection classification
IP 54
Product specification
Downloads